A cover letter is a single-page document that you send along with your job application. You must always include a cover letter with your resume unless it is specifically requested not to attach. It's your professional summary hence its ideal length must be around one page.
A cover letter opens an opportunity for you to speak with hiring managers in a more humanly tone. You can use a cover letter to make a connection of your past experience with the role you are applying for. Also, you can explain any career gaps that are mentioned in your resume.
Match your cover letter to the role you are applying for. Do not use a general cover letter for each job you apply to. Always craft your cover letter according to the expertise and expectations present in the job descriptions.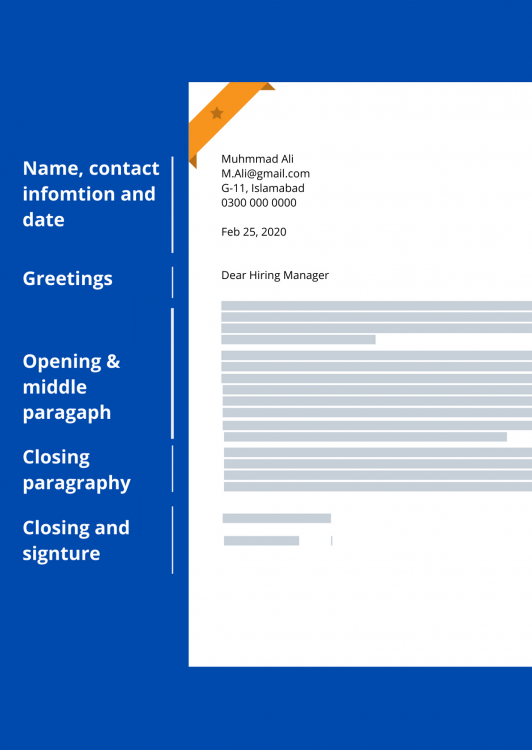 Steps to write a cover letter. If you are emailing a cover letter to the hiring manager you must omit steps 1- 3.
1. Start with your name and contact information
Likewise any standard business letter, there are some essential pieces of information that must be included at the top. For example
Muhammad Ali
M.Ali@gmail.com
G-11, Islamabad
0300 000 0000
2. Include the Date
Next, add the date on which you are sending your cover letter. It must be one line apart from the sender and recipient's contact details. For example
Muhammad Ali
M.Ali@gmail.com
G-11, Islamabad
0300 000 0000
Feb 25, 2020
3. Recipient's contact details
Add the name and information of the recipient. Usually, the name of hiring managers are mentioned, else you can look them up on professional networking mediums.
Muhammad Ali
M.Ali@gmail.com
G-11, Islamabad
0300 000 0000
Feb 25, 2020
Ahmed Amen
Innovations
123 Blue Area
Islamabad, PK
4. Add greetings or salutations
Open your cover letter with standard greetings like "Hello" or "Dear".
5. Opening paragraph 
Start with an introductory paragraph to introduce yourself and to express your intent and interest in the position you are applying for. You must also express your enthusiasm for the role and the organization.
6. Background 
In the second paragraph, let the reader know your past experiences and connect them with the role you are applying for. Try to focus on relevant experiences and how they would complement your new role. Mention your skill-set, expertise, and knowledge that would make you successful in your new role. Present your past achievements and the measurable results you obtained.
Instead of repeating the points mentioned in the resume, craft a compelling story to keep the reader hooked. You must incorporate all the important keywords mentioned in the job description.
7. Conclude your cover letter
Write a keep recap of your accomplishments and why you are the most capable candidate for the given position. Let the managers know that you are looking forward to furthering communications.
8. Closing
Use the closing lines like "sincerely" or "regards" and add your signatures.
By using the above method you would be able to write a simple yet compelling cover letter.