After you successfully completed you PI behavioral assessment, in the next phase, PI cognitive assessment has to be completed. The resulting score indicates your ability to process complex information and your capacity to deal with the cognitive demands of a given position.
---
Type: Psychometric                                       Time Bound: YES                                         Question Type: MCQs
---
What is Predictive Index cognitive assessment?
Predictive Index cognitive assessment measures your capacity to learn, adapt, and acquire new skills in the workplace.
50 questions, to be answered in 12 minutes
Cognition factors: numerical, verbal, abstract
Question types: 3 for each cognition factor, 9 in total
Average score is 20 correct answers out of 5
What PI Cognitive Assessment measure?
The PI Cognitive Assessment consists of 50 multiple-choice questions from three cognitive ability categories (verbal, numerical, and abstract reasoning) and nine subcategories. Essentially, it assesses the rate at which a person can learn—rapid knowledge acquisition. If change is a constant in your organization, pay special attention to cognitive ability.
The test is given to potential employees to assess the skills that interviewers can't gauge through the candidate's resume or in person. When hiring to fill a position, employers often assume that if the person has a degree in the required area, he or she will suffice. However, the degree only shows that the candidate has completed the curriculum, not how well they have performed while doing it.
Hence, the Predictive Index Cognitive Assessment is supposed to find those who have earned not only a diploma or a specialization in the respective courses, but also have the desire and the capability to learn and grasp new things. It measures the candidate's capability under set time-constraints. It is one of the best scientifically-approved management tests in measuring the learning capabilities of job applicants. It predicts thinking capabilities, knowledge acquisition, and much more.
How to Ace PI Cognitive Test
1. Know the Question Type
There are 9 question types on the PI cognitive assessment, and you better familiarize yourself with each one of them if you want to do well on the test. It's not necessarily about mastering each question type; It's more about knowing what you're good at and what makes you waste too much time. Identifying your strengths and weaknesses at this step will help you perform better on the test, as you'll be able to make quick decisions on whether to skip a certain question or not. You can approach this preparation step in a more "relaxed" manner, i.e. without timing yourself yet. PI cognitive test includes:
Numeric Reasoning
Verbal Reasoning
Abstract Reasoning
Numerical Reasoning
Series

Lowest value

Word Problem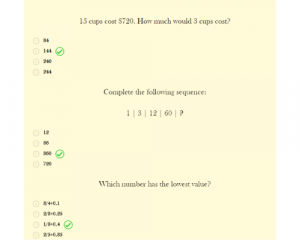 Examples of Numeric Reasoning MCQ's
Verbal Reasoning
Antonyms

Analogies

Analysis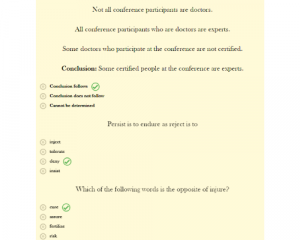 Examples of Verbal Reasoning MCQ's
 Abstract
Series

Analogies

Odd-one-out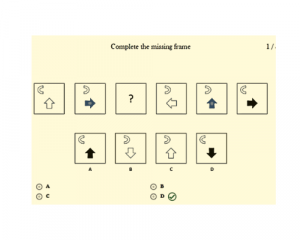 Examples of Verbal Reasoning MCQ's
---
2. Practice with 12-minute, 50-question Tests
The PI cognitive assessment is cognitive ability test that uses the 12-minute, 50-question format. So practice the questions in 12 min.
3. Speed is Key
Similar to other pre-employment cognitive ability tests, the PI cognitive assessment is all about completing as many questions as possible in 12 minutes. Your ability to answer correctly more questions indicates your ability to process complex information and your capacity to deal with the cognitive demands of the job.
However, you are NOT supposed to correctly solve all the questions in the allotted time: only 1% of the population are able to correctly answer more than 40 questions on the test.
Your main goal is to see ALL 50 questions so that you increase your chances of solving as many questions as possible that fall under your strengths.
You do not want to run out of time at question 14/50 and discover that you haven't had a chance to look at 36 other questions on the test. Many candidates fall into this trap and under-perform.